420 event lists
From Cannabis
Top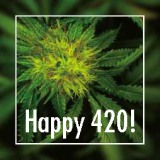 "420" events are cannabis-related events held on or around April 20 (4/20).
Please suggest links for this page! Use the talk page.
2017
2016
2015
2014
Multi-city reports are at the bottom of this 2014 section.
2013
2012
2011
2010
1971. The Waldos
The original 420 batik flag was created by Patty Young. See Wikipedia: batik. She is holding the flag in the photo. Along with some Waldos. She created it in 1971 according to the 2012 article linked first below. The photo is from that article.
Categories